We all love dreaming about the several goals that we wish to achieve in life. But a goal without a plan is just that - a wish. Planning helps you think about and define necessary steps required to achieve a goal. 
Even a small occasion needs a plan for its successful completion. Let's understand this with the help of an example. Your child's 1st birthday is coming up and your goal is to organize the birthday event successfully. Immediately you think about budget, venue, food menu, guest list and other things that needs to be taken care of. You plan for all that and later invite your guests. The birthday date arrives, your kid and his friends enjoyed the party, and it's a huge success.  Your planning made the birthday event possible and successful. 
Zig Ziglar was right when he said that a goal properly set is halfway reached.
Similar to how you plan your child's 1st birthday with so much finesse, you should be planning for their future needs such as foreign education and marriage as well.
Don't restrict planning to short-term events like travel, friend's wedding, child's birthday party, and other personal functions. Your financial goals such as saving for your retirement, child's education, and family home should be planned for as well. Remember that you achieve half the goal just by planning!
The journey of your financial goals is very similar to organizing a birthday party. Planning is the key to making it a success. Research shows that setting financial goals and investing in that direction will help you to reach your financial goals more quickly than unplanned savings. 
In order to make mutual fund investments work for you, it is important to set goals.
But before you invest in a mutual fund to achieve your financial goals, it is important to secure an emergency fund. You should have at least three months of expenses in your emergency fund.
Here's how you can use different kinds of mutual funds to reach different goals.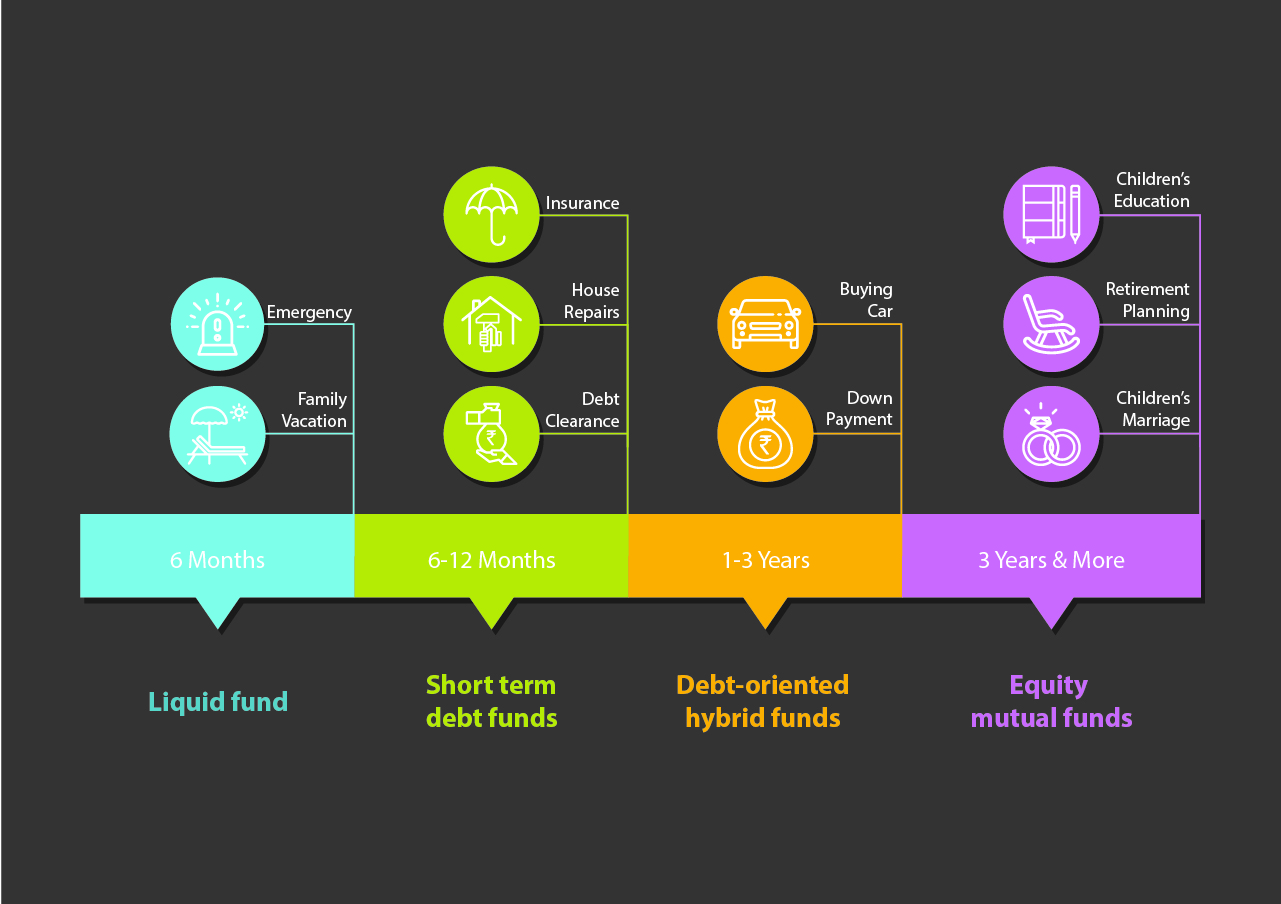 As you can see, mutual fund gives you multiple options of making solid investments for both the short term as well as the long term. So, be it setting up a rainy day fund, purchasing a car or planning for retirement, there are mutual funds to fulfill most of your financial goals